Healthcare, the way it should be
Thank you for stopping by our website. At Mulberry Chiropractic, located in Berwick, PA, our goal is to provide exceptional chiropractic care and rehab programs. We provide efficient, caring service with a smile and a doctor who knows you will work with you to help you reach your health care goals.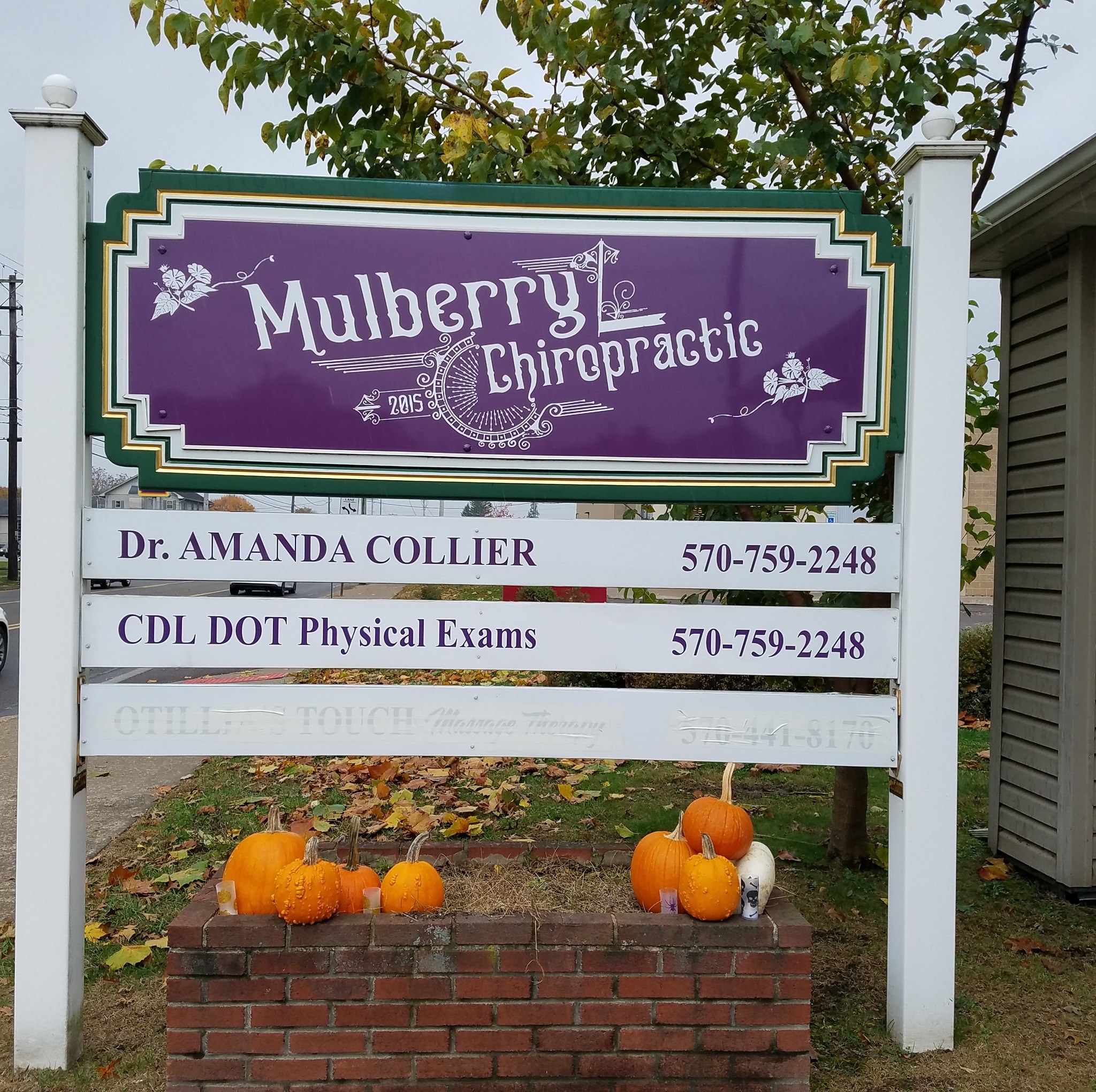 "Dr. Collier is amazing!! I've had hip pain for years. I went to her and within a matter of 3 weeks, I feel great!! Thank you so much!!"
- Liz Martinez
Services
How Can We Help?
Chiropractic
Exceptional chiropractic care, utilizing manual manipulation, activator instrument adjusting, diversified technique, and drop table to treat acute and chronic pain.
Rehab Programs
Whether your goal is to have less back pain, or neck pain, be more active, or get back to work, we will develop a plan for your goals.
DOT Physicals
Dr. Collier is licensed to perform DOT physicals and is able to get you in the same day with little to no wait times.
About
Meet The Chiropractor
Amanda Collier, DC, CCAc, has been practicing chiropractic since 2004. Early in her career, Dr. Collier had the privilege to work in a multi-disciplinary office in Martinsburg, WV, for 5 years, during which time she received over 300 hours of post graduate courses in chiropractic rehab and 100 hours of acupuncture. She worked closely with medical doctors, nurse practitioners, physician's assistants, physical therapists, and other chiropractors to provide care to a wide range of patients.

Upon moving to Berwick, PA, Dr. Collier has taken a different approach. In a smaller office with personalized care, she is able to spend more time with each patient but still works to create a team atmosphere with other local doctors, whether referring or accepting referrals. Dr. Collier believes that communication between physicians is vital to patient care.

In her free time, Dr. Collier enjoys gardening, hiking, and mushroom hunting with her husband, Mark and spending time with her two dogs. She is active in the community through the Business and Professional Women's Club and volunteer project. She spends time at Indraloka Animal Sanctuary and can be seen collecting pumpkins each fall as treats for the animals
find us
Walk-ins Available
Business Hours
9:00am-12:00pm
2:00pm-6:00pm
9:00am-12:00pm
2:00pm-6:00pm
9:00am-12:00pm
2:00pm-6:00pm
9:00am-12:00pm
2:00pm-6:00pm